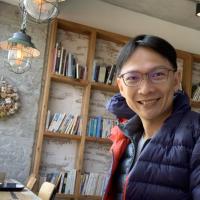 Yi-Ying Chiou Assistant Professor
PhD, Institute of Biopharmaceutical Sciences, National Yang-Ming University
Room 1213, Life Sciences Building
04-22840468#224
yychiou@nchu.edu.tw
Aug 2017~                     Assistant Professor, Institute of Biochemistry, National Taichung Chung Hsing University
Jun 2012 ~ 2017            Post-doctoral researcher, Biochemistry and Biophysics Department, UNC_Chapel Hill, U.S.A.
Aug 2011 ~  May 2012 Post-doctoral researcher, Faculty of Life Sciences, School of Life Science, National Yang-Ming University, Taipei City, Taiwan, Republic of China
Circadian Rhythm
Transcription regulation
1.      Ogun Adebali, Yi-Ying Chiou, Jinchuan Hu, Aziz Sancar, Christopher P. Selby
Genome-wide transcription-coupled repair in Escherichia coli is mediated by the Mfd protein. PNAS 2017 (in press)
2.      Yi-Ying Chiou*, Yanyan Yang*, Naim Rashid*, Rui Ye, Christopher P. Selby, Aziz Sancar (* equal contribution)
Mammalian Period represses and de-represses transcription by displacing CLOCK-BMAL1 from promoters in a Cryptochrome-dependent manner. PNAS 2016 113 (41), E6072-E6079
3.      JH Yang, YY Chiou, SL Fu, IY Shih, TH Weng, WJ Lin, CH Lin
Arginine methylation of hnRNPK negatively modulates apoptosis upon DNA damage through local regulation of phosphorylation. Nucleic acids research 2014 42 (15), 9908-9924
4.      R Ye, CP Selby, YY Chiou, I Ozkan-Dagliyan, S Gaddameedhi, A Sancar
Dual modes of CLOCK: BMAL1 inhibition mediated by Cryptochrome and Period proteins in the mammalian circadian clock. Genes & development 2014 28 (18), 1989-1998
5.      Y Annayev, S Adar, YY Chiou, JD Lieb, A Sancar, R Ye
Gene model 129 (Gm129) encodes a novel transcriptional repressor that modulates circadian gene expression. Journal of Biological Chemistry 2014 289 (8), 5013-5024
6.      Aziz Sancar, Laura A Lindsey-Boltz, Shobhan Gaddameedhi, Christopher P Selby, Rui Ye, Yi-Ying Chiou, Michael G Kemp, Jinchuan Hu, Jin Hyup Lee, Nuri Ozturk
Circadian clock, cancer, and chemotherapy. Biochemistry 2014 54 (2), 110-123
7.      Irem Ozkan-Dagliyan, Yi-Ying Chiou, Rui Ye, Bachar H Hassan, Nuri Ozturk, Aziz Sancar
Formation of Arabidopsis Cryptochrome 2 Photobodies in Mammalian Nuclei APPLICATION AS AN OPTOGENETIC DNA DAMAGE CHECKPOINT SWITCH. Journal of Biological Chemistry 2013 288 (32), 23244-23251
8.      Chang YI, Lin SW, Chiou YY, Sung JS, Cheng LC, Lu YL, Sun KH, Chang K, Lin CH, Lin WJ.
Establishment of an ectopically expressed and functional PRMT1 for proteomic analysis of arginine-methylated proteins. Electrophoresis. 2010 Dec;31(23-24):3834-42
9.      Lin YP, Hsu ME, Chiou YY, Hsu HY, Tsai HC, Peng YJ, Lu CY, Pan CY, Yu WC, Chen CH, Chi CW, Lin CH. Comparative proteomic analysis of rat aorta in a subtotal nephrectomy model. Proteomics. 2010 Jul;10(13):2429-43.
10.  Chiou YY, Fu SL, Lin WJ, Lin CH. Proteomics analysis of in vitro protein methylation during Src-induced transformation. Electrophoresis. 2012 Electrophoresis 33 (3), 451-461
11.  Chiou YY, Lin WJ, Fu SL, Lin CH. Direct mass-spectrometric identification of Arg296 and Arg299 as the methylation sites of hnRNP K protein for methyltransferase PRMT1. Protein J. 2007 Feb;26(2):87-9
12.

 
Lee CS
,

 
Chien CT
,

 
Lin CH
,

 
Chiu YY
,

 
Yang YS
.
Protein changes between dormant and dormancy-broken seeds of Prunus campanulata Maxim.
Proteomics.
2006 Jul;6(14):4147-54.